Xiaomi has launched the Viomi Electric Drying Rack Lite 1C under the Youpin crowdfunding platform. The device is offering a crowdfunding price of 699 yuan (~$104). It is offering free installation and free deconstructing in China.
Earlier Xiaomi has first launched MIJIA Clothes Dryer in 2018, a new model with voice-enabled was launched this year and the Aqara Smart Dryer was launched last year. Now the Viomi Electric Drying Rack Lite 1C will soon be launching.
What is Xiaomi's Viomi Drying Rack offering?
The Viomi Drying Rack offers support for XiaoAI's voice control and this can also be controlled through the MIJIA app. It supports a step-by-step brightening lighting design. It also has three-fold safety protection and that comes with a three-year warranty for the whole machine.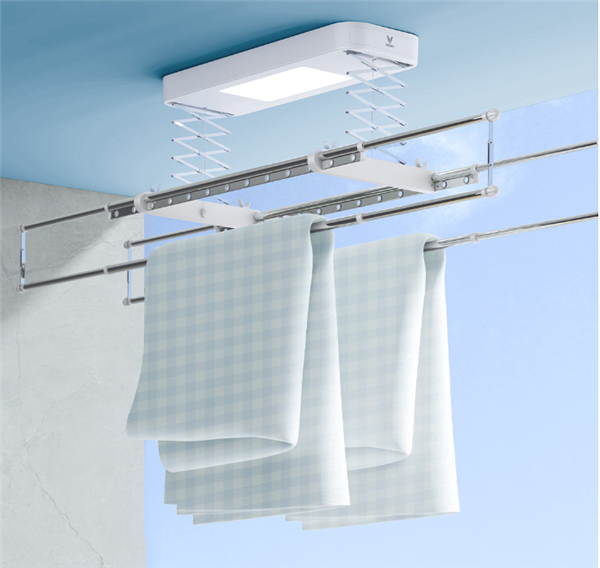 A detailed description of the product
Viomi Electric Drying Rack Lite 1C comes with one-key automatic lifting. When the drying rack is pulled down to a comfortable height, it will stop down sliding by holding it with the hand. After hanging the clothes, press the hand to the top to automatically proceed it toward the top this will help the clothes to dry.
You can expand the rack to 2.2 meters that will make more space for clothes. It is also attainable to expand it to the left and right sides. It supports up to twenty-six wind-proof hanging holes and the entire rack can support a total weight of 70 kg.
ALSO READ : i have been dating a married man for 10 years
The drying rack comes with two rows of multifunctional mother and baby clips that will help you to dry different sizes of clothes from baby clothes to adult clothes. The out of the box design that has a hanging hole, which is stable, durable, tough, and can bear strong winds this will be a product worth spending money for.
Moreover, if you fold it the rack for drying clothes has a thickness of 152mm, which hardly takes any space of the ceiling and you can have a wider field of vision.
Easy control over the product
You can control the Viomi Electric Drying Rack Lite 1C through the Mijia app to set functions like raising, lowering as well as pause the rack. The drying lamp can also be turned on using the app. You also get voice control via a XiaoAI supported device.