Megan Markle sparkles luxury in her latest portrait with Prince Harry. The photo launched by Time Magazine on Friday 16th October 2020, shows her dressed and accessorized in luxury with her husband Prince Harry at their home in California, U.S.A. The portrait was posted to advertise Time100 talk, a distinctly organized talk show that will be led by Meghan Markle and Prince Harry next week.
Harry preferred muted elegance to bring light to Megan exuding luxury
Adorning the $23,000 Cartier watch of Harry's mother, Princess Diana, and the $6, 500 Cartier "love" bracelet on her wrist, Meghan Markle posed in her $2,800 Alexander McQueen suit. Not to miss the $350,000 diamond engagement ring exuberating her finger. Daily Mail reports that the Alexander McQueen suit is the one that Megan draped on her first evening party she attended after her wedding to Prince Harry. The total cost of her ensemble, only $ 382,300. Prince Harry's dress was more muted than sparkly. He preferred to wear a bespoke dark-colored suit and a white shirt with no tie.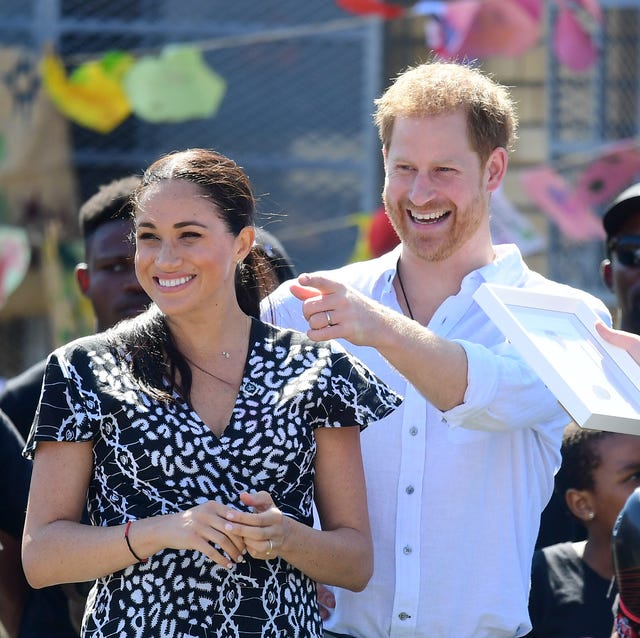 Harry and Megan's photo exudes elegance, simplicity, sophistication, luxury, and grace in a single frame
Matt Sayles, the entertainment photographer from Los Angeles, U.S.A. snapped the black and white picture. In the photo, the 36-year-old prince, Harry, is seated behind Megan, his head slightly tilted on the left with a smile on his face and resting his left hand on her chair.
39-year-old Megan, on the other hand, is seated on the couch posing her left profile, giggling and looking down. The black and white photo exudes elegance, simplicity, sophistication, luxury, and grace, all splendidly in a single frame.
ALSO READ : AJ McLean came forward to speak up about his first time cocaine try prior to Backstreet
Times100 talks hold a virtual conversation with achievers
Titled "Engineering a Better World," Times100 talks to be hosted by Time Magazine will hold conversations with many influencers and achievers like Reddit Mastermind Alexis Ohanian. Harry and Megan will lead the conversation in the show in the next week.
Time100 Talks is a virtual conversation series held once every week that welcomes leaders of different disciplines from every nook and corners of the globe to talk about various subjects. Leaders of various fields like religious leader Dalai Lama, Hollywood actress Angelina Jolie, Tech giants Bill Gates and Sundar Pichai, virologist Dr. Robert Redfeild, physician Dr. Francis Collins, fashion designer Aurora James and musician Nora Jones are just to name a few who took part in the Times100 talks.
A glimpse to the house of the Royal couple
Times100 talks are not the first show that Duke and Duchess will appear. Megan and Harry have been taking part in many virtual chat shows from their home in California U.S.A.
Followers of the Royal couple get a glimpse of Harry and Megan's house in California through the many chat shows they take part in. Daily Mail stated that the Royal couple's Montecito house was charted on Gigster for $700 an hour. The list disclosed many unknown details of their Montecito house.
The "Italian villa" looked complete with wooden old-world-charm doors, in-built shelves along the walls, and a wine cellar. On the exterior, vines cover up the walls and shrubs cover the arcade arms of the outdoor terrace overlooking the beautiful sunlit pool. The house has been taken off the Gigster recently. Harry and Megan bought the house for $ 14.6 million last year.